Backlife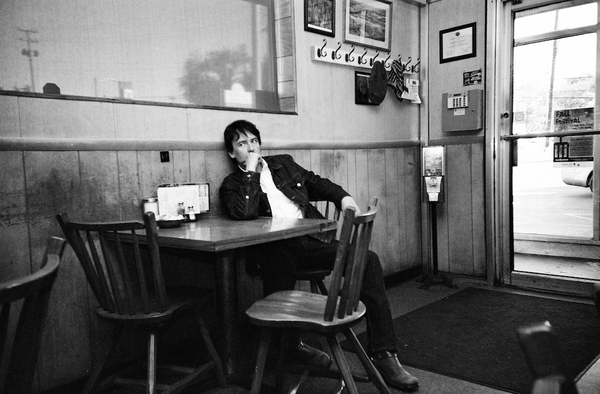 For nearly three decades, Paul Burch's thoroughly modern yet instantly classic songs have attracted fans from Rock to Bluegrass. His latest album Light Sensitive, produced with GRAMMY winner Dennis Crouch (T-Bone Burnett, Burt Bachrach) features a dozen parables about living in the American south and received 4-star reviews in
American Songwriter
,
No Depression
,  
All Music
 and was named "Best of Nashville" by the Nashville Scene.
Light Sensitive
features Burch's longtime band The WPA Ballclub starring instrumental ace Fats Kaplin along with guests Luther Dickinson, Aaron Lee Tasjan, Robyn Hitchcock, and Amy Rigby.
Burch's discography includes collaborations with artists from across styles and generations including Mark Knopfler, the Waco Brothers, Billy Bragg, R&B legend Candi Staton, Lambchop, Tim O'Brien, and Ralph Stanley. "At the risk of being impeached by the bluegrass purists," wrote celebrated music critic Chet Flippo, "I think Burch is the best duet partner Ralph Stanley has found since his brother, Carter Stanley, died in 1966."
Billboard called Burch's 1996 debut
Pan American Flash,
"extraordinary … establishing Burch as a leader in marrying country's roots tradition with a modern sensibility".  PB's contribution to Michelle Obama's Let's Move campaign led to a White House performance with Chuck D and Doug E. Fresh. Pop Matters called his musical memoir of Jimmie Rodgers 
Meridian Rising
"another welcome gem from one of the finest contemporary roots performers, not to mention one of the best damn songwriters, operating today." And PB's salute to Buddy Holly,
Words of Love
, found a fan in Holly's widow, Maria Elena: "Paul has everything Buddy wanted to hear in an artist — his own style and his own sound." 
Peter Guralnick, author of biographies of Elvis Presley, Sam Cooke, and Sam Phillips wrote about watching PBWPAB perform in Nashville.

I'm a Paul Burch fan.  How could I not be?

How many other contemporary artists have forged a body of work of such cleverness and coherence, careful craftsmanship and white-hot heat, with all the zeal of the most dedicated student and all the passion of a true original? It's different every night, but it never fails to achieve its purpose, what Sun Records founder Sam Phillips has deemed the unequivocal purpose of every kind of music: to lift up, to deepen, to intensify the spirit of audience and musicians alike.  Listen to the music. Every time it offers the possibility that this may be the best one yet.

Visit the Discography page to read more.