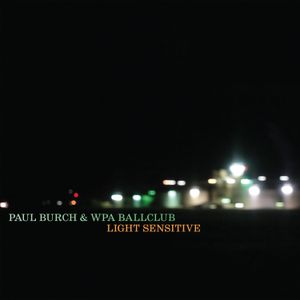 LIGHT SENSITIVE
Produced with GRAMMY winner Dennis Crouch, Light Sensitive, is a collection of creative non-fiction tales about living, loving, and dying in the modern south. The album was partly inspired by PB's commission from the Southern Foodways Alliance in Oxford, MS based on the life of actor, writer, and chef Eugene Walter. Light Sensitive features the incomparable WPA Ballclub with instrumentalist Fats Kaplin and guests Robyn Hitchcock, Luther Dickinson, Amy Rigby, and Aaron Lee Tasjan. Visit the mercantile for purchase.
Songs
Love Came Back
Mardi Gras in Mobile
Jean Garrigue
Fool About Me
The Tell
Glider
Marisol
Prince Ali's Fortune Telling Book of Dreams

Flight to Spain
You Must Love Someone
23rd Artillery Punch
Boogie Back
Production
Production Paul Burch and Dennis Crouch
Recording and Balancing PB
Mastering Eric Conn and Don Cobb
Artwork
Design by Sheila Sachs
Photography Sheila Sachs and Catie Baumer Schwalb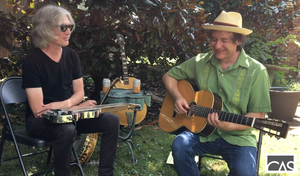 Musicians
Guitar & Voice PB
Upright Bass Dennis Crouch
Drums Justin Amaral and PB
Piano Heather Moulder
Harmonium, Piano Jen Gunderman
Hawaiian Steel, Fiddle, Viola Fats Kaplin
Harmony Carey Kotsionis, Aaron Lee Tasjan, Amy Rigby
Alto and Tenor Saxophone Chloe Feoranzo
Airport Voice of Reason Robyn Hitchcock Flight to Spain
Slide Guitar Luther Dickinson Fool About Me
Slap Bass Dominic Davis Fool About Me
 
QUOTES & BROADCASTS
World Cafe NPR
A Roundup Of Compelling New Nashville Music To Cure The Quarantine Blues
Though Paul Burch has been a fixture in Nashville since the '90s, he's operated independently of contemporary, commercial trends all along, instead applying scholarly attention and breezy, witty execution to pre-rock forms. On Light Sensitive, he and his longtime outfit the WPA Ballclub — featuring his fellow producers Dennis Crouch and Fats Kaplin — are jaunty virtuosos, shambling, boogie-ing and swinging through Burch's animated character studies.
Chicago Reader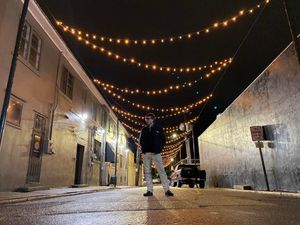 Burch...is an expert stylist who meshes past popular genres but always manages to sound like himself—he can even stand out when working with artists who are distinctive in their own right, such as art-country collective Lambchop and Chicago country-punks the Waco Brothers. On his own, Burch is more refined; think of him as Nashville's answer to Nick Lowe or Joe Henry. Together with the WPA Ballclub, they swirl textures together with the deft touch of jazz musicians, moving the music into intimate spaces that are both nocturnal and joyful.

All Music  
Light Sensitive finds Burch & WPA Ballclub in full command. The bright, warm production in these beautifully written and arranged songs, combined with the band's seamless juxtaposition and articulation of various styles, push this inspired album to coexist with Burch's very best efforts such as 2000's Blue Notes 2003's Fool For Love and 2009's Still Your Man. Light Sensitive is essential Burch.
There's a perennial sincerity on Paul Burch's latest album, Light Sensitive. Though he has the writing genius to enter into the grim realities of love, life, and death, Burch spends his time bringing listeners stories of, well, love, life, and death, but without the grimness that so often comes with those tales. Instead, with the help of his band, the WPA Ballclub, Burch spins sagas that sound too familiar to be true, continuing to set him apart from anyone who might claim to be his contemporary...Though Light Sensitive can't provide an escape from this pandemic, Burch invites listeners into his unparalleled world where the past, present, and future come together for an astounding, timeless experience that isn't a turning loose of emotion, but a much-needed escape from it.
NPR Our Daily Breather
In Nashville a chicken really is good for something. Featuring the Burch family recipe for Hot Chicken.
The String Interview with Craig Havighurst
It's hard to listen to Light Sensitive — whose sound draws from folk, blues, postwar R&B and lots more — without admiring the quality of Burch's songcraft. The album's dozen tracks aren't biographical, but they're inspired by the lives and times of some extraordinarily colorful characters of the South. The lyrics are at once playful and dense with allusion, rendering his subjects with the depth and boldness of an oil painting. Light Sensitive is a gas....and is further proof that he's one of our finest wordsmiths and interpreters of the world around us.
Bluegrass Situation 5+5 Guest Columnist
FILM
LOVE CAME BACK Directed by Henry Burch
THE TELL Directed by Jim Herrington
VARIATIONS OF A LOST SUMMERTIME
Directed by Liz Tormes